Outdoors Gallery
The material and photographs on these pages are copyright 1997, Sean Cleary. No duplication without written permission.

(For larger versions of each picture, click on the small image.)

Mount Shasta at sunset, from the east, after a very wet spring for Northern California. I had tried a route on the southeast side earlier that day but was turned back by very wet slushy snow

My mountain bike on the Black Rock desert playa in northwestern Nevada. This is one of the biggest playas I have been on and was eerily empty and flat. I rode my bike here no hands for 2 miles in a straight line with my eyes closed. I hope that is some kind of record.

Near the brink of Chilnualna Falls in Yosemite, a couple of days before the big Yosemite floods of January 1997.

In Little Death Hollow, in the San Rafael Swell, southern Utah. This was a nice narrow canyon with a few places that required scrambling. There was lots of petrified wood in the area.

El Capitan from the summit of Higher Cathedral Spire. The East Buttress route (IV, 5.10b) lies on the right hand side of the photo. The beginning of the climb is at the end of the line of bushes that go from the middle of the right hand part of the face and eventually end. It is very obvious from this angle how much shorter the East Buttress route is than a real El Cap route, like the Nose.
A wonderful sunset from the North Rim of the Grand Canyon. I smugly assured K that the chance that this picture would come out was zero, but she was persistent...

The Colorado River from a nice spot near the North Rim.
Poppies blooming in the Antelope Valley during a good year, and the strange snowplant which is common to many forested parts of the western Sierra in late spring. It still seems wierd to me that there is really no part of this flower which is green.

A couple of starfish on Big Baldy in Sequoia NP in blowing snow.

Sun lighting the Na Pali coast on Kauai, a few months before Iniki rearranged things a bit.
Two parts of the Narrows in Zion.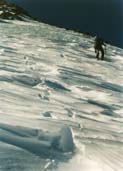 Doug making progress up the Hotlum-Bolam route on Shasta in October, after the first fall storm left a few inches of snow there. We had spent the previous night in the tent on a rather small platform that we tramped out.
The view from Mt. Gould, a good view-to-difficulty ratio peak very close to Onion Valley. And an edgewise-view of the fin-like feature just south of Kearsarge Pass. I think Roper called it class 3, but it looked harder than that when I was over there.
Parunaweap Canyon is a good narrow canyon of the east fork of the Virgin River, partly in Zion. Here is a log still wedged from earlier flooding, some narrower bits, and a staged self-portrait. At the water levels I was at, there were no mandatory rappels, swims or roped climbing, though there was some scrambling and there were some shoulder-deep bits. I understand that canyon has been closed to vistors now.

Delicate Arch with Katherine in the obligatory spot.